The Swarm
February 18, 2011
Matt Diehl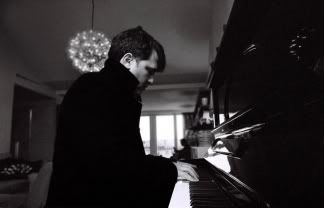 For an exclusive FREE DOWNLOAD of The Twilight Singers' cover of "Don't Call" by Desire, go HERE.
We're not going to lie: here at The Daily Swarm, we are unequivocal fans of every phase of Greg Dulli's career – from his years fronting The Afghan Whigs to The Gutter Twins (a collaboration with another iconic maverick, Mark Lanegan) to The Twilight Singers, his longest running project, which made its debut in 2000 with Twilight As Played By The Twilight Singers. The Village Voice recently called Dulli "one of the most rewarding, formally inventive, and charismatic songwriters and performers to emerge from '90s alternative rock." Indeed, today, Tuesday February 15th, marks the release of the Twilight Singers' Dynamite Steps – the group's acclaimed fifth full-length and, arguably, a pinnacle in Dulli's oeuvre. SPIN called it "his strongest, most widescreen set since the Whigs' mid-'90s heyday," and Rolling Stone said of the album, "Unleashing a persona that's part barroom romantic, part serial killer, Greg Dulli's Twilight Singers project has now eclipsed his Nineties soul-grunge outfit Afghan Whigs"; Pitchfork, meanwhile, noted "Dynamite Steps is Dulli's best collection since Blackberry Belle." (This week, The Twilight Singers perform two rare in-store appearances – today, February 15th at 6:00 p.m. at the Los Angeles location of Amoeba, and at Amoeba's San Francisco branch on Thursday, February 17th).
"Dark" is a word that gets tossed around when discussing Dulli's music and persona, and "soul" is another; "cinematic" is the one that proves the stickiest, however. This is due in no small part to Dulli's own emphasis: since the 1992 release of The Afghan Whigs' Uptown Avondale E.P., his recorded efforts have replaced the standard "Produced by" with "Shot on location." This also reflects the almost literary sense of place his songs exude, alternately evoking his coming of age in Ohio's iconic American Midwest setting, to his adopted homes of Los Angeles and New Orleans, to more exotic climes spanning the Joshua Tree desert to Hawaii (Twilight As Played By The Twilight Singers is dedicated to Hawaii's tragic Princess Ka'iulani). Our conversation used Dulli's sense of place as a starting point for a freewheeling, epic exchange into the making of Dynamite Steps and its connection to his entire body of work.
The Daily Swarm: When did you first start saying "shot on location"?
Greg Dulli: Uptown Avondale, 1992. Music had always been extremely visual to me, and it was the best way I could parlay that feeling. I did that for me, not anyone else. I do it to express myself—unlike Young Jeezy, who does it for the 'hood.
What have been the touchstone places throughout your career?
The first one would be Cincinnati – that's where we did Uptown Avondale, and where the conception of [Afghan Whigs' 1993 masterpiece] Gentlemen began. I had actually moved out of Cincinnati five times by then; it's a harbor for me – I know everybody, I feel safe there, and it's where I became who I am. But we were on tour all the time. I actually wrote Gentlemen on the road – [Afghan Whigs guitarist Rick McCollum] and I wrote "Be Sweet" in Paris; I wrote the riff to "What Jail Is Like" in San Sebastian, Spain; I wrote the first verse of the song "Gentlemen" in Tampa, Florida; I wrote "Debonair" in Minneapolis. Then we got down to Memphis, where it all expanded anew. Writing a song, you're creating a memory within yourself, and you're self-mythologizing as well.
Self-mythologizing has never had anything to do with your career…
[Laughs] Oh, come on! I won't even let that one fly by.
In truth, that's actually been a big part of the fun of following your career, knowing there's some self-mythologizing going on—that the snapshots in the lyrics are at least partially fictionalized. It's the difference between raw footage and cinema, I guess.
Cinema verité, man. There's City of God and there's City of Lost Children: two different places: one's a little more tangible, while the other you'd probably rather be in – although those chicks in City of God are beautiful!
On Dynamite Steps, what were some of the primary locations that influenced its creation?
I currently have two homes, Los Angeles and New Orleans. How much time I spend in each depends on what year it is: a couple years ago, I spent most of the year in New Orleans. The majority of this record, though, was done in Los Angeles and Joshua Tree, with side trips to New Orleans and Bogalusa, Louisiana, which is a whole other world seventy miles north of New Orleans, up on the Mississippi border. As Joshua Tree is to Los Angeles, Bogalusa is to New Orleans: it's about the same distance, and provides a similar escape hatch. The studio I use in Bogalusa is called "Studio In The Country," and being there you understand how so many classic albums have been made there: you are really out in the country, under the beautiful trees, and everything's quiet away from the urban environment.
How do those different environments affect your creative process?
I love extremes. I've always loved cities – I've lived in seven or eight of 'em, including ones in other countries. You get enough of one city, you move on and balance yourself with another. New Orleans was familiar to me immediately. In the creative sense, if you go from L.A. to Joshua Tree, you're taking L.A. with you; you go to Bogalusa, you're taking New Orleans with you. But you're taking it out in the quiet, laying it out on your bed, and getting a new perspective on it that you can't get when you're in it. A quarter of Dynamite Steps, maybe even half, was written in Joshua Tree, at [desert rock legend] David Catching's studio, Rancho de la Luna. The seeds of what the album became were planted there – songs like "On the Corner," "Blackbird and the Fox," and "She Was Stolen." "On the Corner" began as an accident: the drum machine that starts the song is from one of those organs like they used to have in the mall. I turned it on, and couldn't figure out how to turn it off; I started playing with it instead of letting it drive me insane. You take it where you can get it: I wrote the first verse and melody on the spot, spontaneously.
When did you first experience Joshua Tree?
I first visited Joshua Tree in 1984, when I was 19. I went with some friends of mine I worked with at Tower Records. They were Gram Parsons fans, but honestly, I didn't know who the fuck he was – I didn't even know his whole connection with the Rolling Stones then. But on the way out there we listened to both of Gram's solo albums, Grievous Angel and GP, and he sounded good to me. I thought "Love Hurts" was by Nazareth, so I was when I heard his version I was blown away. Seeing the desert for the first time was incredible: when you're growing up in the Midwest, the desert is camels and sand dunes, so I was receiving an education – this desert looked more like "Roadrunner" cartoons to me. I was more fascinated with the local topography than its place in rock history: I knew about the area's unique trees, and that Joshua Tree had once been completely underwater. On that trip, we camped out in the park and tripped, and I communed with the desert; I'm a communer with wherever I go. Joshua Tree has an interesting vibe. There's toothless trouble about – the shadow of meth culture is hidden in the background – but it's less in your face because everyone is so spread out: you're not watching someone pull a grocery cart full of their life down the street the way you might in, say, downtown Los Angeles.
When did Joshua Tree become more of a focus in your creative endeavors?
I didn't go back to Joshua Tree for a long time – maybe ten, fifteen years. I only went back when I became friends with Dave Catching [Queens of the Stone Age, Eagles of Death Metal, Masters of Reality], and he is one of the nicest people I ever met. I started to go out there to visit him in 1999. I had been aware of Kyuss, and what was happening out there musically – I'd seen them when Josh [Homme] was a teenager; they were on Elektra around the same time I was. But I wasn't necessarily obsessed with that scene, because I never get obsessed with any scene; I've always been more polyamorous musically.
That kind of relates to your relationship with grunge. You came up around the same time as many of the grunge icons, played the same circuit, recorded on the same label, but your music avoided many of the aesthetic tropes associated with that era.
I wasn't from Seattle, so just by nature of where I was from, I was regionally distinct. I appreciate The Sonics and The Wipers, but I never really listened to 'em: I was into Hüsker Dü, Squirrel Bait, and the Ohio Players. I was getting into music from where I was from, which was the Midwest. I remember when I first saw the Violent Femmes: I loved them and had never seen anything like that. And when I first moved to Los Angeles, I saw Rain Parade, Black Flag, X, but I was especially drawn to The Dream Syndicate. I really connected with [Dream Syndicate mastermind] Steve Wynn as a songwriter, and The Days of Wine and Roses is a masterpiece of an album.
When did you first start working in New Orleans? To my mind, the songs you write in New Orleans have the most vivid sense of place: in a literary sense, they really transport the listener there.
As Let It Be was recorded before Abbey Road, I did the first Twilight Singers demos there before I made [The Afghan Whigs final album] 1965. I'd wanted to record there for a long time. I had been hanging out in New Orleans for over ten years, had friends there, and it was very attractive to me; after that, I never really left. I love the architecture, the smell in the air, the sky that you can touch, that descends on you, the music everywhere. When I think of New Orleans, I think of the Meters, James Booker, Dr. John… Dr. John's album Gris-Gris made me want to go to New Orleans: he really mythologized the world down there – the whole spooky, swampy voodoo vibe.
"St. Gregory" was written in New Orleans; "The Twilite Kid," "King Only, "Forty Dollars," "I Wish I Was," "Fat City," "Decatur Street" – those are all New Orleans songs. I wrote "Last Night In Town" and "Gunshots" from the new album there – "Gunshots" is all about my impressions of the city, down to the title. The poetry I was trying to find was all around me: that happens there a lot. You don't go to New Orleans to feel innocent, but to be who you really are. It's also a small town, and a transient town: lots of people come to both New Orleans and Los Angeles to escape something. The characters in those songs are all escaping something: I've been escaping since I came out the womb!
The first Twilight Singers album displayed your deepest electronic-music influence up to that point (Twilight As Played By The Twilight Singers was actually largely co-produced by U.K. downtempo duo Fila Brazillia). And while Dynamite Steps often features a very organic, band-style interplay, at times it also references the new electronic-music sounds of Los Angeles – Gonjasufi, Gaslamp Killer, Flying Lotus…
I like all those artists, but I have to say, it was Black Light by Groove Armada that loomed largest in my mind as an influence on Dynamite Steps. I'd heard Groove Armada before, but I really bonded with Black Light: as soon as I got it, I listened to it all the time. I loved the different singers, from Bryan Ferry and Nick Littlemore to Saint Saviour and Jess Larrabee. Jess Larrabee's now a friend of mine; her band She Keeps Bees played with us in New York at the Bowery Ballroom. She and Nick Littlemore were huge vocal influences on me: they're why I went for it vocally on Dynamite Steps.
Nick Littlemore's songs on Black Light are so confessional, but in a way that contrasted so aptly with the album's sound: the music is welcoming and rhythmic, but if you really listen to his lyrics, you feel uncomfortable…
I don't know that guy personally, but I know that feeling, and it was clear from the songs he was working some shit out. That record was a moment in time for me – it came along at the right time: I had a passionate affair with it.
Dynamite Steps is kind of like that: it's one of your most sonically welcoming records, but get to the core of it, and it's just as dark as anything you've ever done. The contrast is what gives it vitality.
The darkness never leaves. You have to learn how to let the sunshine in and get your Vitamin C on. You don't want to find yourself running to stand still: you want to see a new road ahead. I keep finding ways to keep myself inspired and interested. Last week, I got to meet someone I never thought I would meet: Steve Kilbey, the singer of The Church. I first heard The Church when I was a teenager, and loved them. No one sounds like the Church but the Church.
Christopher Walken once said something to the effect of, "When they are looking for a 'Christopher Walken type,' they have to call me."
If I find myself ten years from now still being open to life the way Steve Kilbey is, then I'm going to be a lucky guy. Kilbey's probably a decade older than me, and has been through a lot of life, but came out the other end and is still doing what he loves. He's still making fresh music – he's one of the most prolific cats in the world. Anyone who's slept on Kilbey, that's your loss.
I can hear a lot of what you do in, say, the expansiveness of the Church's production – that kaleidoscopic yet very human sound.
When the Church got to Heyday, where they brought in the horns and the strings and the orchestra stuff, I was really struck. This was an Australian psychedelic band that was experiencing the same ambition that Curtis Mayfield, Isaac Hayes, or even the Beatles did when they wanted to bring in other colors. Heyday has some of the hardest rocking Church songs on it, like "Tantalized," which is monstrous. I can draw a line directly from "Tantalized" to a song like "John The Baptist." I can also draw a line from "Move On Up" to "John The Baptist": they're two different influences from opposite ends of the spectrum. I'm not trying to canonize myself here, but as a songwriter I'm not trying to do anything different than Curtis Mayfield or Steve Kilbey did.
I've never thought of it before, but "Under The Milky Way" by The Church also has a kind of classically Dulli-esque chord progression…
The first three songs Afghan Whigs played as a band were "Psychedelic Shack" by The Temptations, "One Day" by The Church, and "The Rover" by Led Zeppelin.
And from the twain of all of those sprung the Afghan Whigs sound…
There you go. That's not even apocryphal: I was there, and the other guys would tell you the same thing.
You first came to Los Angeles in the mid-'80s. What was the vibe when you arrived?
At the time, I felt like you were either into the Velvet Underground or the Doors: "The West is the best/Come here and we'll do the rest…" I loved The Doors, and have always been a fan – I loved their drama, their pageantry, their sexuality. Chicks loved The Doors: you could float on that shit. I came from Ohio, and L.A. is The Doors when you're a kid. When I first got to L.A., I saw The Minutemen; I saw Red Hot Chili Peppers at the Music Machine; I saw Guns 'N Roses at the Country Club in Reseda, pre-Appetite For Destruction; I saw X. Seeing bands like that brought me together with people that had a common interest.
With all of those bands, you saw them accruing a larger and larger audience in real time. It was really an idea from the L.A.-area bands like Black Flag and the Minutemen.
Yes. Watching people get in vans and drive around and play for ten people, that was really romantic to me; then you'd see Violent Femmes or Hüsker Dü or The Replacements get out of the van and play for 1,000 people. I saw Black Flag in Ohio, even before I saw them in California. I'll tell you what, though: seeing Hüsker Dü on the New Day Rising tour must have been like seeing the Who in the '60s. I'd seen the Zen Arcade tour, but with New Day Rising they went to an even more intense place – it blew my mind. I saw that show at this place in Newport, Kentucky called the Jockey Club, which was very famous. The Jockey Club was a seminal place for me, and what I became: I saw The Damned there, I saw Johnny Thunders there, I saw The Ramones there, I saw Black Flag there, I saw Killing Joke there, I saw the Violent Femmes there. At the same time, I was sitting back at my house and playing Controversy, 1999, and Off The Wall.
On Dynamite Steps and throughout your career, you can hear the influence of L.A. noir in your work, from Raymond Chandler, to James Ellroy, to even Dr. Dre. L.A. has these amazing contrasts of constant sunshine mixed with death, drugs, corruption, sensuality…
And Joan Rivers – I'm a huge fan. Really, New York is the beginning, and L.A. is the end. Except for the Polynesians, the Spanish, and the Martians, they all came across from the East, and California was land's end. It's the North American Patagonia, the end of the road – the next stop was Hawaii.
What songs have you written that reflect Los Angeles most for you?
"Bonnie Brae" and "Martin Eden." The book Martin Eden by Jack London inspired me to write the song because it reminded me of Elliott Smith: it's a story about a writer who becomes famous and disenchanted at the same time. It's part of me, too: I had begun to draw the line. When we bought the Short Stop [a bar in Los Angeles' Echo Park neighborhood in which Dulli is an partner owner], I was one of the bartenders for the first year; I worked Monday nights, and Elliott lived up the street. It became a thing: Elliott and I would hang when no one was there, so Elliott could be in peace. I spent a lot of Mondays with Elliott – I'd close the bar, and we'd stay and listen to the jukebox and just kick it; at one point, we had five Beatles records in the jukebox, and I give him full credit for that. He certainly loved the Beatles, and knew a lot about them: he was fun to talk music with – just a really kind, intelligent, beautiful cat. I knew him for only a short time, but he was one of the most interesting people I'd ever met. I'd met him years before for the first time at Satyricon in Portland, when he was in Heatmiser. I lost touch with him; honestly, his stardom kinda crept up on me. I wasn't really paying attention, but when I peeked back out, Elliott was already a star – he was on the Oscars! I had stopped playing music and he was a big reason why I started playing again: I had receded, and he was very encouraging.
Speaking of Portland, you recently covered the song "Don't Call" by a group called Desire, who record for that city's Italians Do It Better label. That choice surprised me, especially how you transformed the song.
One of the main guys behind Italians Do It Better is a guy named Johnny Jewel: he writes songs under three guises – Glass Candy, Chromatics, and Desire – and I love them all. All three have chick singers, but they're all different. Desire has a song called "Don't Call," which starts out with the "Billie Jean" drumbeat, then goes into an orchestral string hook that I've heard in my dreams; I hear it and think, "I've been here before." The original is so party style; but sort of like when the Whigs did the covers on Uptown Avondale, the loneliness and isolation of the words hit me when I just looked at them on paper, separate from the music. I had to take it there.
There is one last location that has proven important to your work, especially recently with Dynamite Steps: the Internet…
Absolutely. The first time I did an Internet collaboration was after Hurricane Katrina: I was in New Orleans, and Mike Napolitano and Ani DiFranco and I were working together on [the previous Twilight Singers album, 2006's] Powder Burns. A lot of the music we made was done on the corner of Esplanade Avenue and Frenchman, above Checkpoint Charlie's: there are six apartments in that building – I've recorded in five of them, and slept in all of them. I was beginning to record "Candy Cane Crawl," which went through a bunch of changes. There was a midnight curfew, and there would be brownouts every night to keep you inside. We had a click track, a Rhodes part, and Ani and I had already sung our vocals. That night, I sent the track via email to Greg Wieczorek in New York to put drums on it, to [former Afghan Whigs bassist] John Curley in Ohio to lay down bass, and to Scott Bennett in L.A., who sings with Brian Wilson; I'd imagined this Beach Boys kind of thing that I knew Scott would nail perfectly. Weirdly, all three sent their tracks back within twelve hours; we finished that song and never had to leave the building. By the next afternoon, we had everything completed, and mixed that night; in forty-eight hours, that was song was finished, over five states and three different time zones, with only me, Ani and Mike ever working in the same room. We'd also sampled "Methamphetamine Blues" by Mark Lanegan, so Mark's presence was on the song, too.
Lanegan and Nick McCabe, the great guitarist from The Verve, appear together with you on a new song, "Be Invited," off of Dynamite Steps. How did that come about?
I'd never met Nick before – still haven't. I've talked to him on the phone twice; he's really nice guy. I sent him the track, and Nick sent me multiple parts back. He created a "thing" – he's an alchemist who can play guitar without it sounding like a guitar. You know that weightlessness scene in 2001: A Space Odyssey? Well, Nick brought zero gravity to "Be Invited" – he made it float in space; then Mark Lanegan's part kicks in, which brings you back down to earth. They were the yin and yang of the song, and I was Libra balancing the scales.
You've been around the world now so many times. Is it a grind, or does it still inspire?
It always rubs off on me. I wouldn't do this if it wasn't exciting. I'll get off the bus and be like, "Fuckin' Copenhagen – let's do this!" Your experiences shape your worldview. I also went to South America twice during the making of Dynamite Steps, and I went to Mexico three times: I was open to a lot of local flavor, even if it doesn't show up in obvious ways in the songs. There are no tangos on the record, but Buenos Aires is all over Dynamite Steps: that city means so much to me. I love Buenos Aires so much, I could live there: it has such a draw, a sanguine undertow. It's a perfect amalgamation of all the great cities of the world – New York, New Orleans, Paris, Mexico City, Madrid. The architecture there, the fashion, the food, the music, the late-night culture, the friendliness of the people – that town's on fire: I defy anyone to go down there and not get turned the fuck on. Everything I do is affected by the itinerant lifestyle I lead, doing this. I've lived in so many places: you like to think you're still the same person, but you adapt to your environment, wherever you are. Traveling gives one perspective: I started to look at my life, and realized that I am doing in fact what I've always wanted to do. You turn that on, and you turn on the child inside you.